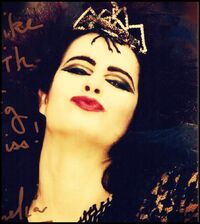 Amelia Kinkade is the central actress in the Night Of The Demons series, portraying Angela Franklin in all the installments.
Experience
Amelia Kinkade was interviewed by OBX Entertainment about her significant role in the series:
"
"The casting agent hired me because she said I absolutely scared her half to death, which I'm very proud of" Amelia told us of her initial audition for Night of the Demons. "I was cheerful. I got in her face and I was little bit too flirty.

"I had no idea that it was going to lead to a series of films that 25 years later have still maintained the test of time. I now have fans coming to meet me with tattoos of me on their chest. The first one of these conventions I did, four guys in their 20s came in with tattoos of me, and I was just shocked.

"I had no idea I had that kind of fan base out there. I have it with the animal work that I do and with the books that I write, and I teach and lecture all over the world, but this resurgence of horror movie interest comes as an enormous shock to me."

Amelia told us that she never thought she would be creating one of the greatest and most memorable villains in cinematic history, much less breaking cultural ground as one of the only female monsters to stand out among her peers in an already crowded genre traditionally dominated by hulking males.

"It hadn't occurred to me at the time," she said. "Even when they were making these posters that say 'Angela's having party and Freddy and Jason are too scared to come,' it still hadn't occurred to me that I was the only female monster, and I remain the only female monster. When people say to me, 'Why did you audition? Why did you want the part?', I say I wanted the part because all the other girls were running around naked getting killed. I was the only one that got to keep my clothes on and kill everybody else.

"Given the choice between screaming and being chased by a female demon or being the female demon, I thought it was fun. I thought it was funny. I think that when I shot the film, I was just being myself."
To view the entire interview: http://obxentertainment.com/2013/10/14/amelia-kinkade-remembers-night-of-the-demons-25-years-later-interview/

"

–Amelia Kinkade
Appearances
Ad blocker interference detected!
Wikia is a free-to-use site that makes money from advertising. We have a modified experience for viewers using ad blockers

Wikia is not accessible if you've made further modifications. Remove the custom ad blocker rule(s) and the page will load as expected.