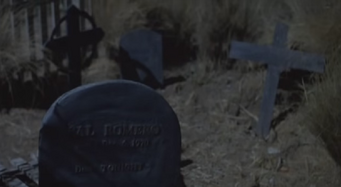 Cemetery is a burial ground located next to the Hull House that can teleport itself in the Hull House as well.
Description
Old Cemetery
The old cemetery is located right next to the Hull House. According to Max, the cemeterys' prime location earned Old Man Hull, a fortune for his funeral parlour.
Demonic Cemetery
The Demonic Cemetery is a particular cemetery that has the capability of teleporitng itself inside the Hull House on the commandments of certain demons, including Angela Franklin.
It appeared besides Sal Romero's corpse with a few graves and tombstones including Sal's, when Angela threatened/warned Rodger and Judy Cassidy that there's no way out of the Hull House. It is undisclosed weather it's a demonic cemetery or a teleported part of the originally mentioned old cemetery.