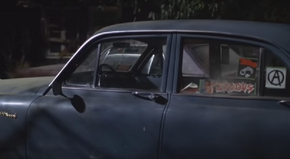 The Hull House Driveway is known for several diabolical events that took place around it.
Description
The parking isn't definite, and is probably referred because it's the only spot to halt cars in Hull House. In 1988, when Rodger took cover in Angela's car, Helen's corpse was shockingly dumped on the car by an unknown force. The driveway was seen again, in 1994, when a group of college teens including Rick, Z-Boy, Johnny, Kurt, Shirley, Terri, Bibi and Melissa decided to visit the Hull House, unlike others Melissa stayed in the car. Rick's car was also parked along the driveway. The driveway is basically situated infront of the house.
Ad blocker interference detected!
Wikia is a free-to-use site that makes money from advertising. We have a modified experience for viewers using ad blockers

Wikia is not accessible if you've made further modifications. Remove the custom ad blocker rule(s) and the page will load as expected.