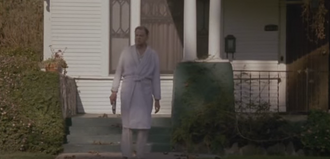 The Ol' Freak Residence or House No. 2833, located in Mathisville, is the house of the infamous Ol' Freak and his homicidal spouse.
Description
The house is first seen in the opening scene of Night Of The Demons, 1988, when the Ol' Freak is taunted by Stooge and Rodger, who are driving by his residence and later pranked by Sal Romero with Judy Cassidy accidentally being scolded by the Freak. The house then appears in the ending sequence of the movie, at first, the old freak taunts the dreaded Rodger and Judy and then is assaulted by his wife, while having a meal in his house.
Ad blocker interference detected!
Wikia is a free-to-use site that makes money from advertising. We have a modified experience for viewers using ad blockers

Wikia is not accessible if you've made further modifications. Remove the custom ad blocker rule(s) and the page will load as expected.